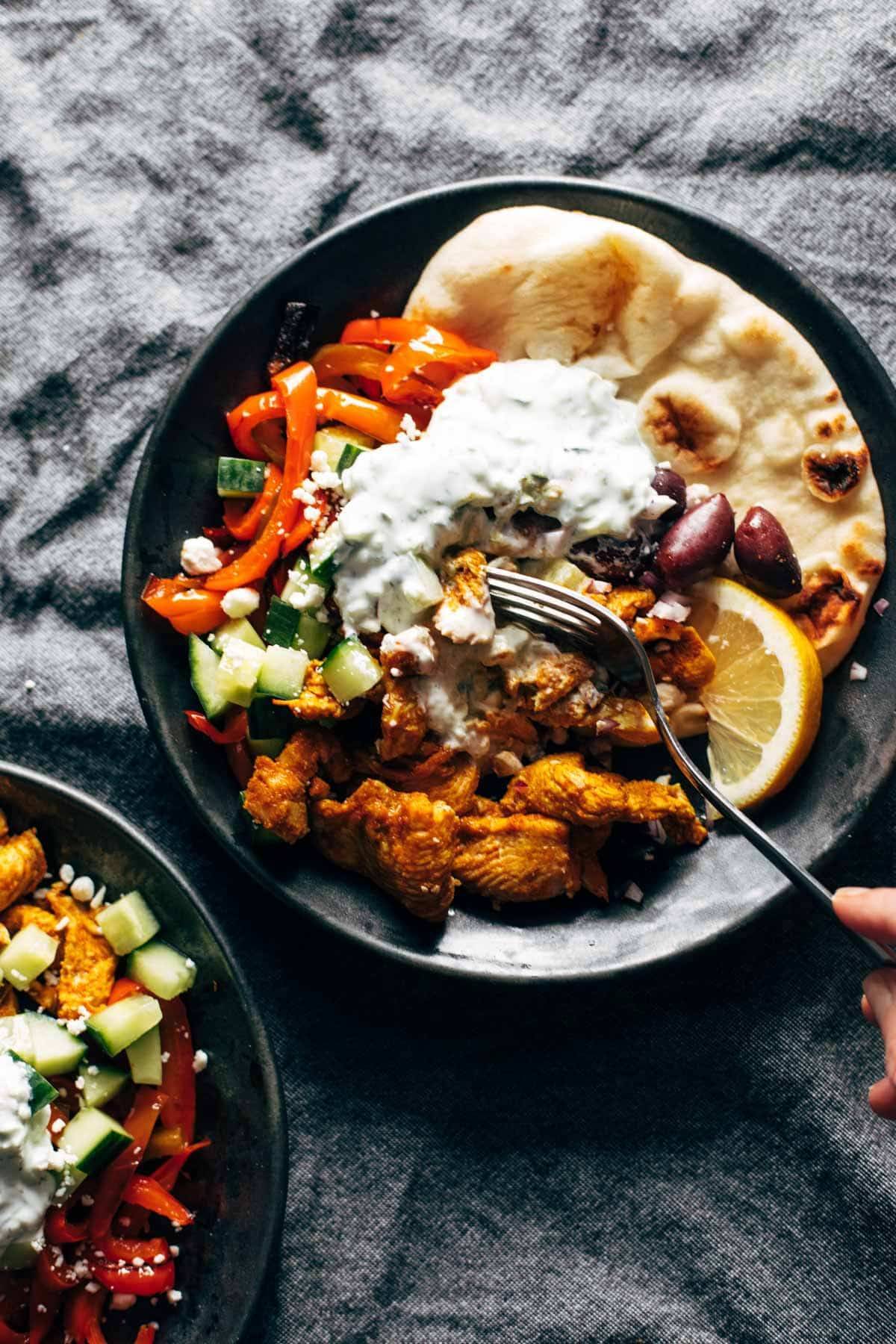 Part bowl, part salad, part sandwich folded up into any kind of bread you like, and I'm here for it in every form.
Favorite thing I've been eating lately: these sheet pan chicken pitas.
this recipe
Er, can we call them pitas? They are part bowl, part salad, part sandwich folded up into any kind of bread you like including but not limited to pitas, and I'm here for it in every form.
Here's our lineup:
Pile that on a plate and grab a fork – or grab a piece of warm, soft naan, or pita, or socca (YUM), and get to work. You've got the crunchy, and the cool-creamy, and the puckery-briney all happening in one big joyful bite.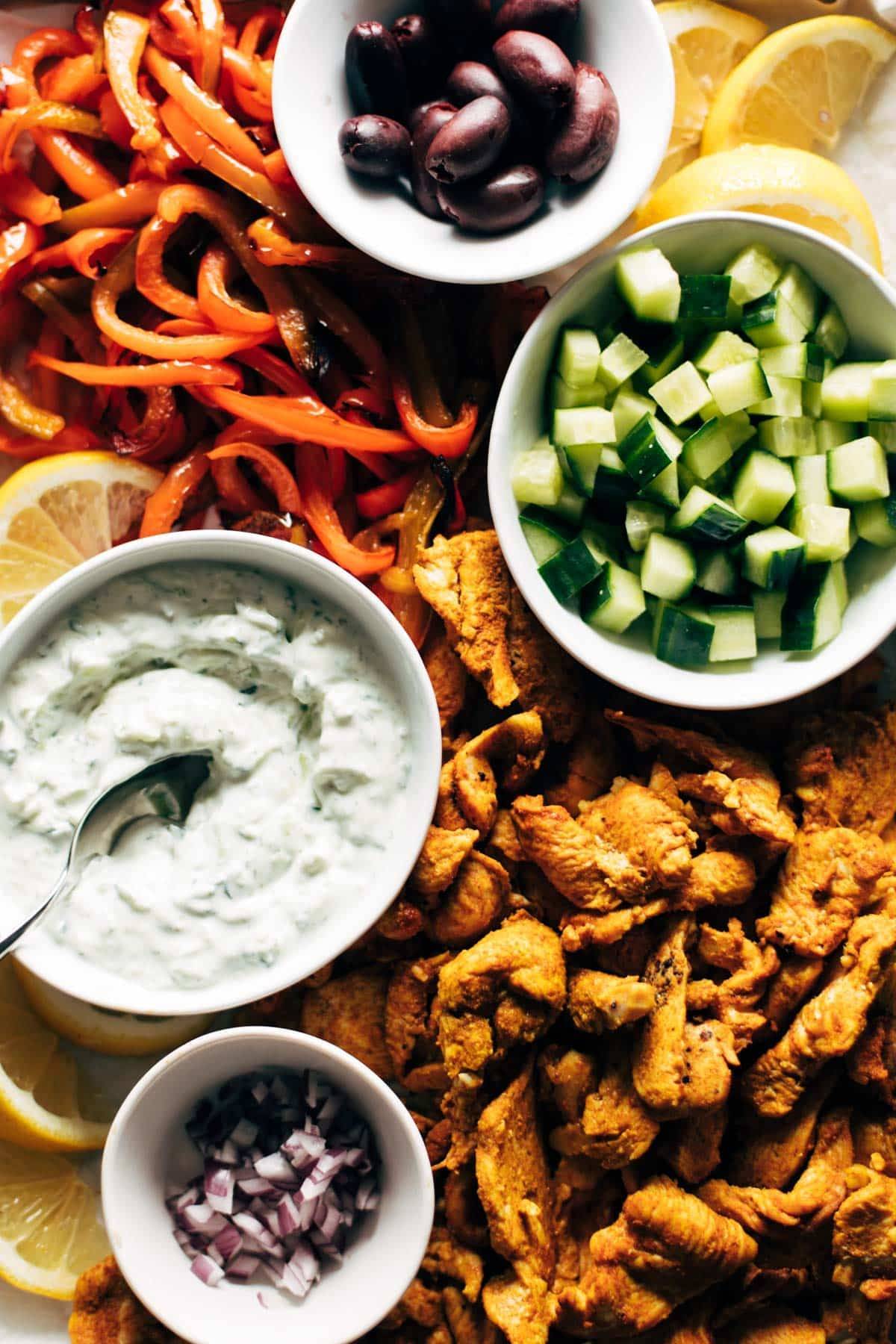 How To Serve Sheet Pan Chicken Pitas
Here's how I like to serve this: family style!
Everything goes on a roasting pan, and you effortlessly carry your gourmet-looking roasting pan to the table, and you let your people feast.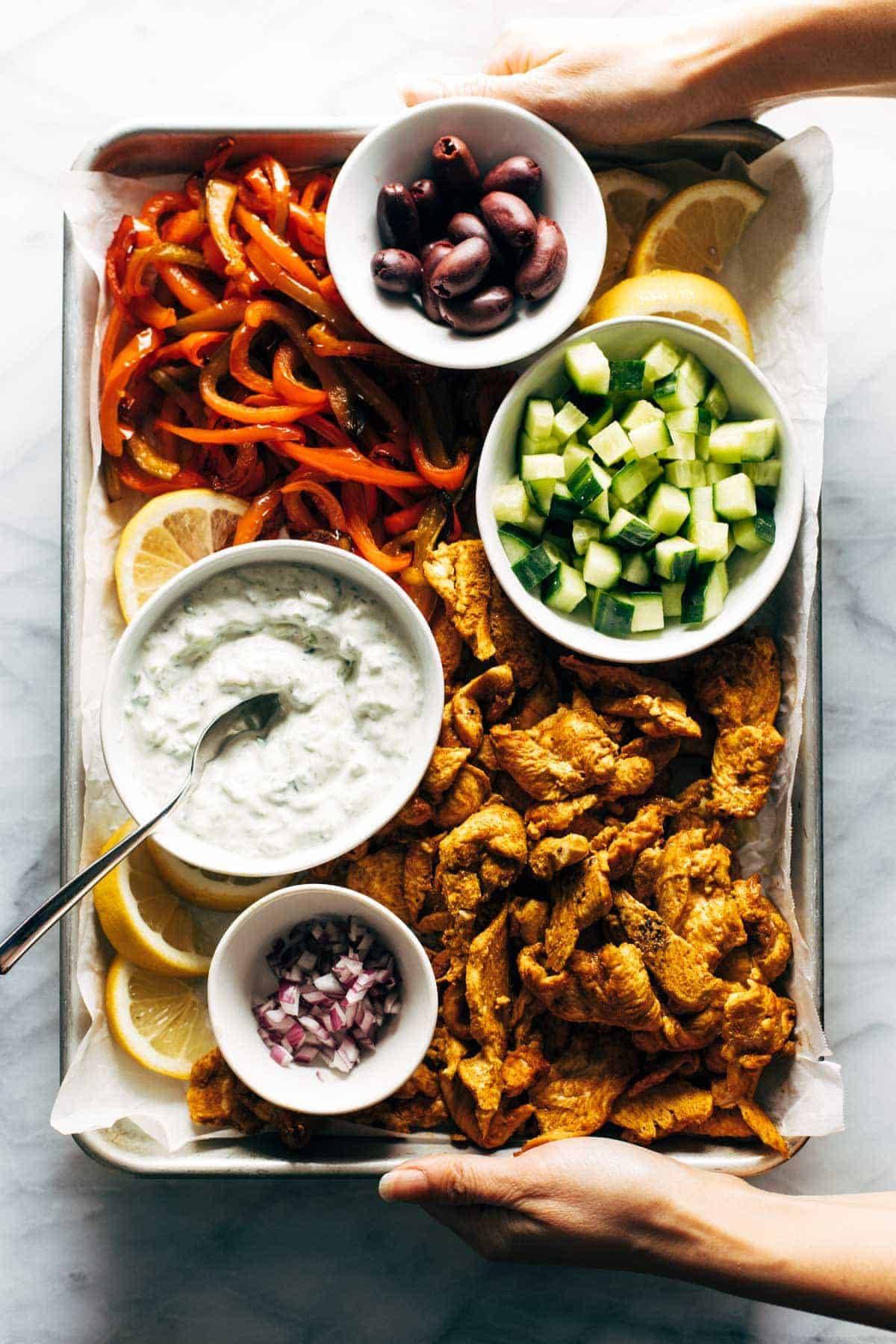 It's comforting and filling. But it's also happy and crunchy and fresh, which is exactly what we need right now in the deep winter. Happy, fresh, filling, annnd go.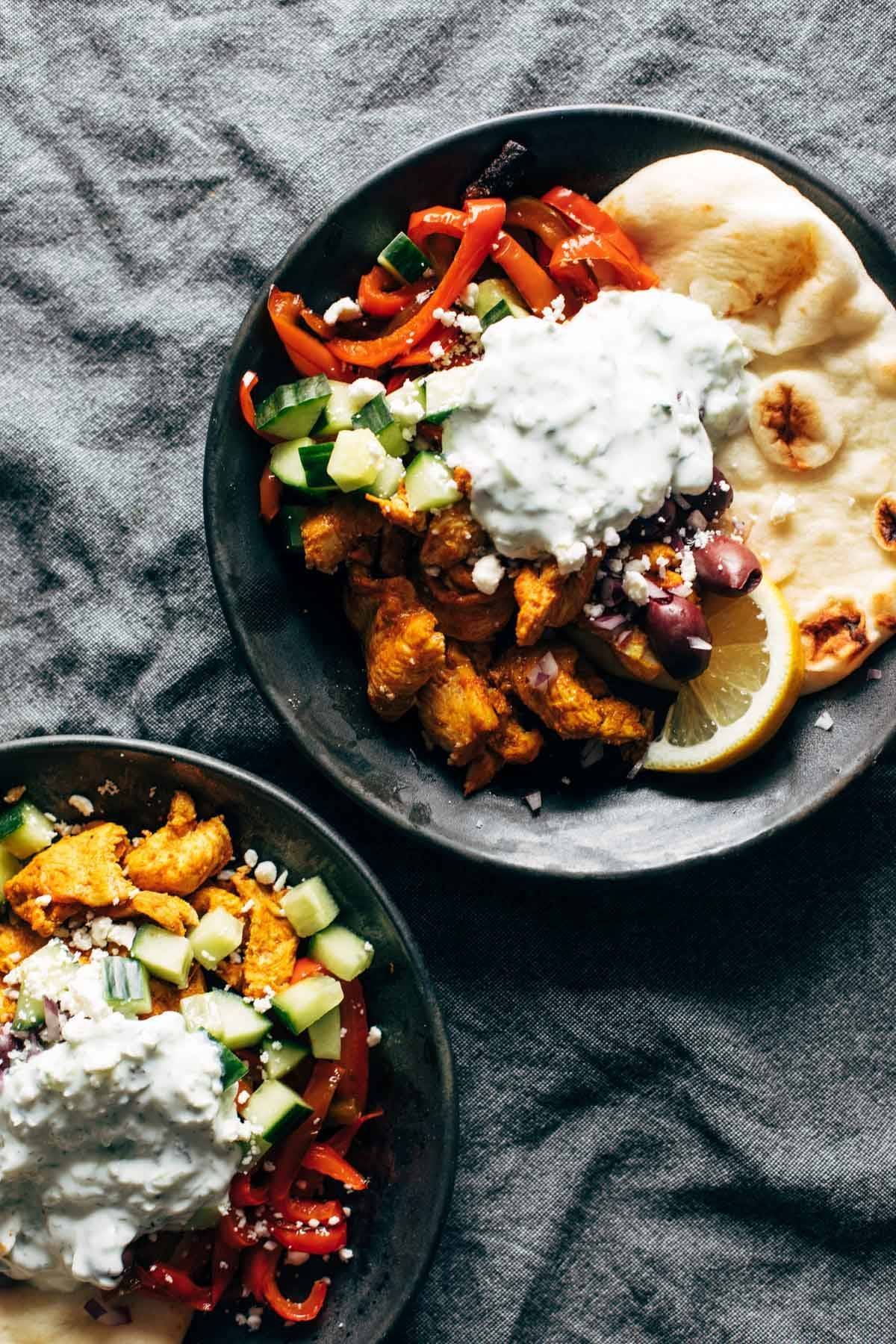 Check Out Our Video For How To Make Sheet Pan Chicken Pitas:
clock clock iconcutlery cutlery iconflag flag iconfolder folder iconinstagram instagram iconpinterest pinterest iconfacebook facebook iconprint print iconsquares squares iconheart heart iconheart solid heart solid icon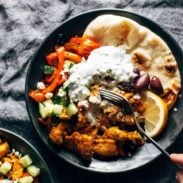 Sheet Pan Chicken Pitas with Tzatziki
5 from 81 reviews
Description
Sheet Pan Chicken Pitas that are salty-briney-crunchy in all the right ways! Marinated chicken, roasted peppers, fresh cucumber, kalamata olives, feta cheese, and an easy homemade tzatziki.
Ingredients

Units
USM
Chicken:
Peppers:
Tzatziki:
Other:
Instructions
Preheat the oven to 425 degrees. Mix chicken ingredients in a bowl. Marinate for 30 minutes.
Mix all tzatziki ingredients.
On a sheet pan, toss the peppers with olive oil and salt. On a second sheet pan, place the chicken pieces. Roast both for 10-15 minutes, until chicken is cooked and peppers are browned.
Serve chicken, peppers, sauce, and all the other fixings on a big platter (or just a sheet pan, really) and everyone can build their own pitas / bowls / salads. So much salty-briney-crunchy goodness.
Equipment
Notes
Store bought tzatziki also works great in this recipe to save you a few steps!
Freezer Meal Version
Toss Together:
1 lb. boneless skinless chicken breasts, cut into very thin strips
2–3 bell peppers, sliced
3 cloves garlic, grated
1 tablespoon olive oil
1–2 tablespoons lemon juice
1 teaspoon each: cumin, smoked paprika, kosher salt
1/2 teaspoon curry powder
black pepper to taste
Freeze: Spread into a single layer on a parchment-lined baking sheet. Freeze until solid; transfer to a bag or container to store in the freezer. 
Bake from frozen: 425 degrees for 20 minutes
Final Step: Serve with pitas, tzatziki, hummus, cucumbers, tomatoes, feta, olives, red onion… sky's the limit!
Check out our full freezer meal posts with all recipes and instructions here!
Keywords: sheet pan dinner, greek chicken, mediterranean chicken, chicken pitas, sheet pan chicken
Load More Comments
Read Full Article https://pinchofyum.com/sheet-pan-chicken-pitas